My everyday life - Artist's Collections
by Tracy Mcalister mackay - 10:39 on 03 February 2011
I have a collection of "porridge" bowls; I love the shape of them as I hold them with both hands. I have Anta tartan bowls, hand thrown in the north of Scotland where the field are wide low open with big sky's, hand painted with not so traditional, muted colours, bought when making our first home in the Highlands when children were still just a twinkle. I have bowls I collected whilst on holiday in the Orkney Isles that hold the memories of great holidays and great friends with every touch. I have bowls from Japan, a gift from my husband who knows my love of Japanese design and culture and they hold dreams of future adventures. I have white one of various texture from simple sources but no less valued when filled with food.
Very rarely do they hold porridge. They have fed my children many many lunches of soup on cosy Scottish winters days ( even Scottish summers day ). And as life and children grow and change, they hold olives bought in the market here in Cyprus, hand cracked and prepared with coriander seeds, before family lunches in the outdoor taverna nearby. They hold pecan nuts from the Troodos Mountains at Christmas time, they hold dips of tahini and yogurt with hints of the near by Middle East.
Many have passed through my hands and gone, they don't bounce on marble tiles as they do on wooden floors…… but this morning one holds porridge, porridge that warms my hands and heart preparing for the next stage that is to come.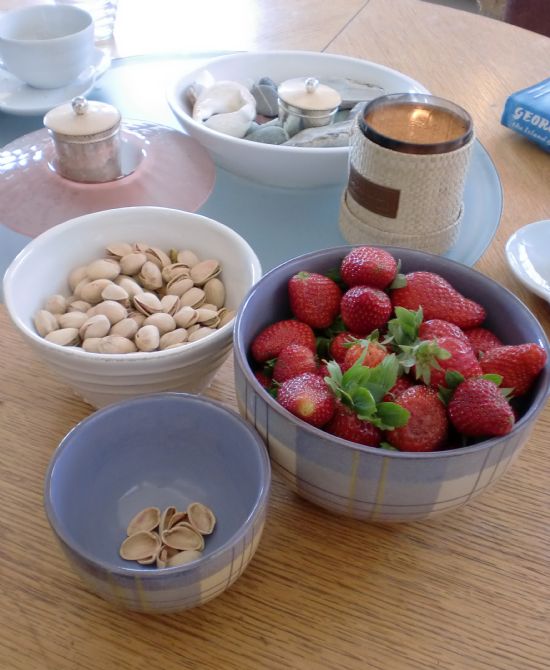 Hi Tracy,
I had no idea you were an artist. Your web-site looks great and I love your work. If Sandy and I ever manage to get the home we would like I will definitely be looking at buying some. Hope the cruise ship expo proves to be profitable.
Comment from Tracy at 12:47 on 05 February 2011.
Thanks for you kind comment - I would very proud to have your wife and yourself take a piece back home.
---
Add your comment
Please note that whenever you submit something which may be publicly shown on a website you should take care not to make any statements which could be considered defamatory to any person or organisation.
---