Sloe gin and shortbread in the shed with chandelier…(a few weeks back!)
by Tracy Mcalister mackay - 15:18 on 21 April 2011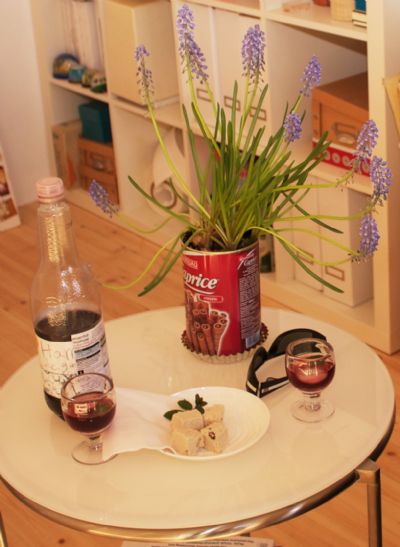 Recently I woke after a busy week, month, 6 months… where sooooo much has happened. I realized I hadn't had a coffee in a well-known big brand coffee shop with a certain friend, for a very long time. It is not the coffee shop that is important in this – there is a much more special coffee shop which we both regularly frequent run by a very special woman (Bente will be yelling "you both, haven't been in here for ages" or whatever the equivalent is in English spoken by a Norwegian) Bente is owner of Ibsen international cultural club and maker of the best coffee in Limassol if not the Island.
We, Andrianne and I regularly frequent both places depending on which head we have on that day, journalist, artist, writer, artist, mother, partners, friend…Our visits have been less frequent over the last 6 months as we are both in the midst of all sort of creative work/developments.
This morning I realized the need for a chat and a coffee with a familiar friend, I called Andrianne and she too was in need of a latte "in cup not a glass".
As we queued for the coffee, I notice a cake – it won't feature on the menu of this chain in many other places around the world, I don't think. The cake has walnuts on top. My English/Cypriot friend (her parents are Cypriot but she was brought up in England) explains that it is indeed a fasting cake containing no dairy. I order my non-dairy latte and the non-dairy fasting cake and we chat about our joint act of giving up chocolate for Lent. Whether you are "believer" or not, it is hard it avoid Lent in Cyprus. We have just had a week of celebrations and a massive Carnival parade that has lasted literally hours and closes off practically all the centre of a European City of 200,000 people for several hours.
I love it. …Any chance for a celebration when the news full of. …well most people who have access to 24 hours news now and know what it full of.
I admitted to my dear friend, who speaks in a perfect English accent, that her not so perfect friend, me, ate chocolate at lunch just yesterday at a lovely Swedish friends house. Andrianne laughed in that slightly shocked way she does - I love Andrianne because she lives in a dream world where I am perfect J. I broke my Lenten fast, after just a few days, because…. I forgot, plain and simple, I forgot that I was supposed to be not eating chocolate for lent! Maybe it also proves a lack of devotion on my part or maybe I forgot because I am using it as a way of decreasing my waistline or maybe neither of the two???
Anyway what has this got to do with my shed with the chandelier….
As Andrianne and I chatted in our coffee land of joint mutual perfection, (I also live in a land where she has no faults either ;-)); we talked of her accepting help in the areas of paperwork organization etc in her home. As creative, active journalist/ writer at the moment (she has worked as a TV producer/ researcher for the likes of the BBC etc amongst the other impressive hats she has worn in her time) like many woman, her wind (busily walk ne runs) along a road where she is holding on to extensive skills alongside carrying a busy family life, creating and maintaining a home and relationships etc etc.
Most of us carry all these life-enhancing things too with varying levels of other peoples perceived success.
Thankfully, in Adrianne's admission of the need to accept help from a lovely family member, Sloe Gin came into the conversation …. aaah Sloe Gin; the memories the highlands of Scotland; Moniack castle; duty free shops never have it?? ; friends from home, collecting sloe berries on the hills near Culloden Moor….
"Where the bleep did you get sloe gin????" I ask in a café filled with the Ferrari driving clientele of Limassol.
"Does anyone here even know what Sloe Gin is" we say out louder than we maybe should… the luxury of living in a land where loud voices only read as lively discussion…
Andrianne s lovely son had made it in the UK (this is Adrienne's own story to tell) and we decide an occasion was needed to be created to sip this precious special drink in a little clear glass with a nibble of something very specific in "the shed with the chandelier"
So Sloe Gin and Shortbread in the shed with the chandelier it will be… oh hold on a minute shortbread has flour and sugar in it, another thing I was going to give up for lent…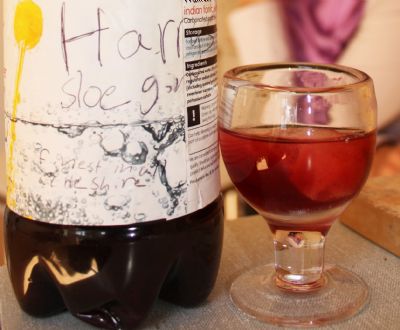 The Shed with Chandelier where special moments can be created, memories remembered, dreams developed in a safe place where there are no imperfections only unique individuals creating the special things that need to be shared with others….
Great Post ! I love the photos too ! Makes me want to jump right in and join you :)
Luv, Lynne
Comment from
Tracy
at 13:43 on 30 November 2011.
Lynne - Thank you , love the idea of you jumping and joining us - I had better check if Andrianne has any sloe gin left :-) Always a warm welcome whatever.

---
Add your comment
Please note that whenever you submit something which may be publicly shown on a website you should take care not to make any statements which could be considered defamatory to any person or organisation.